'SISTER TALK' The Women's Roundtable Book Club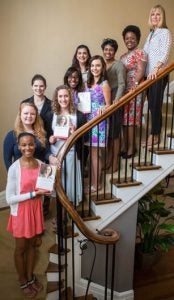 Launched in fall 2013, the Women's Roundtable book club was created to enhance leadership skills and promote intimate conversation between ECU students and women in leadership.
The program is titled "Sister Talk," and all readings focus on leadership topics.
Following are news stories reporting on the club's meetings.
Stories from 2013 and 2014 were written by Jamitress Bowden, an ECU graduate and member of the Women's Roundtable.
Membership in the Women's Roundtable book club is kept small to enable a more intimate conversation. Book club members from the spring 2014 meeting are pictured at right. (Photos by Cliff Hollis)